A More Convenient Jib Crane – Mobile Jib Crane
What is mobile jib crane?
Mobile jib crane, also called mobile cantilever crane, is a kind of jib crane can be moved conveniently. Mobile jib crane is more flexible and adaptable, is an independent emergency lifting equipment, which can ensure the production line operates smoothly.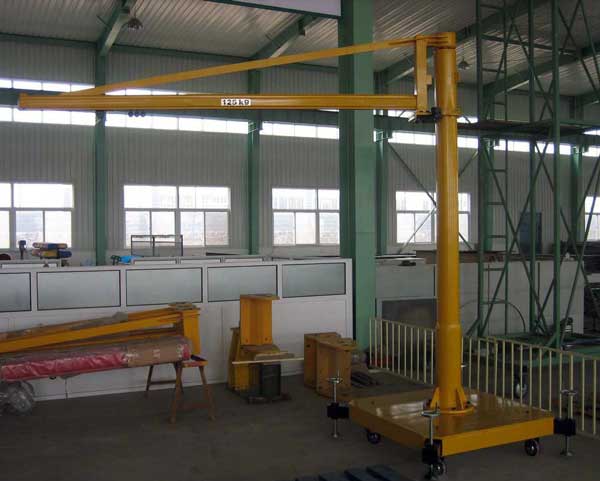 Working principle of mobile jib crane
The movable cantilever crane is provided with a ring chain electric hoist (or wire rope electric hoist)at one end of a 300°rotary cantilever, for the lifting of the goods or the workpiece. The other end is provided with counterweight, it is opposite the lifting jib and rotate at the same time, which acts as a counterbalance. Mobile jib crane is widely used in equipment installation, cargo and workpiece handling of factories, workshops, field, small warehouse, as well as the building where is not suitable for the erection.
Technical parameters of mobile jib crane
| Rate Lifting Weight (t) | Base Width B | Width of Supporting Leg E | L (MM) | h | H |
| --- | --- | --- | --- | --- | --- |
| 0.125 | 1,200 | 1,018 | 3,000 | 3,000 | 3,700 |
| 0.25 | 1,400 | 1,218 | 3,000 | 3,000 | 3,750 |
| 0.5 | 1,400 | 1,218 | 3,000 | 3,000 | 3,900 |
Advantages of mobile jib crane
TICO mobile jib crane can run to the desired location at any direction, and the electric hoist can run on the jib of crane, which is suitable for the situation where the weights need to walk and rotate, the lifting of heavy objects is carried out by electric hoist. Lifting equipment has the characteristics of simple structure, convenient operation, flexible, large working space, wide application scope and so on.
Use of mobile jib crane
Operators should strictly abide by the operation rules of the equipment, master the performance of the lifting equipment, strictly prohibit the use of overload.
This crane must follow the basic principle of "running without lifting weight, lifting without running".
Do not use terminal baffles as a usual parking method.
Open the four supporting device on the ground before lifting, in order to ensure safety of operation.
When lifting heavy objects, should try to avoid repeatedly move operation of electric hoist.
Heavy lifting of the chain or rope must have sufficient strength, firm and reliable, the acute angle must have liner when lifting heavy objects, rope set on the hook must be placed in the center, in order to prevent slip.
The lifting and moving of heavy objects shall be carried out under vertical conditions, it is not allowed to pull,rotation of the lifting frame is not allowed to be dragged or struck.
When lifting equipment failure occurs, the power supply should be cut off immediately.
When lifting heavy objects, people is prohibited to stand or walk through under the mobile jib crane.
When the work is finished, the weight should not be suspended in the air, and the power supply should be turned off in time.
Maintenance of mobile jib crane
Every six months, rotary machine parts of mobile jib crane need to add lubricating oil.
According to the use conditions, regular clean the accumulation on rotating parts of the beam.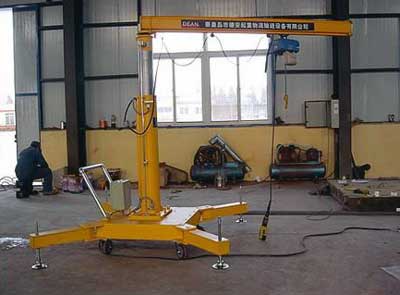 TICO provides you excellent mobile jib crane
Mobile jib crane produced by TICO is used matching with electric hoist, high efficiency and energy saving, it is the ideal lifting equipment in the workshop, automobile manufacturing, warehousing, machinery manufacturing industry, and so on. TICO has a professional engineer team to provide guidance for user before and after installation, in order to ensure that users are familiar with the operation and maintenance of our mobile jib crane, provide you with professional services. Our mobile jib crane has not only beautiful appearance, but also reliable quality, high safety performance, which is your ideal choice.